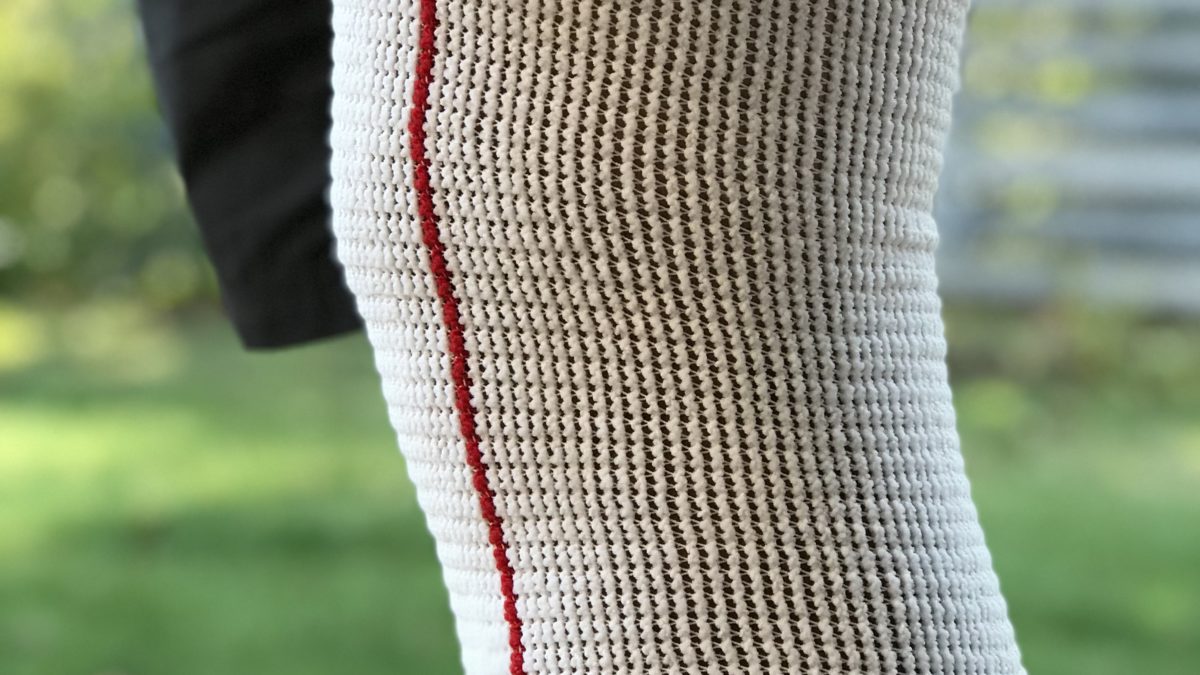 New peer reviewed EdemaWear study published
A paper titled Evaluation of Longitudinal and Tubular Compression Treatment for Lower Limb Edema by Sibbald et al., has been published in Advances in Skin & Wound Care. Here we review the new study
This study evaluated two elasticized systems for the control of bilateral or unilateral lower limb edema; an elasticized longitudinal non-latex spandex (EdemaWear) stockinette and a latex containing elasticized tubular bandages. The crossover study evaluated edema control, pain and patient preference in patient with lower limb edema over 1 month, uncontrolled venous disease and ankle-brachial pressure index (ABI) 0.65-1.3. An elasticized longitudinal stockinette (ELS) and an elasticized tubular bandage (ETB) were evaluated for control of bilateral or unilateral lower limb edema in 25 patients. The majority of patients in this crossover study had an average body mass index of 40.1 kg/m2.
"The ELS (fuzzy wale stockinette) is a recent innovation and alternative clinical choice in the low-compression toolkit. Most patients found this device comfortable and relatively easy to apply."
DOWNLOAD THE FULL PAPER HERE
To the best of our knowledge, this represents a milestone for EdemaWear as the first peer-reviewed study publication conducted in Canada. Dr. Sibbald is one of Canada's foremost wound experts, who was among the architects of Wounds Canada as well as the Wound Bed Preparation concept and TIME acronym.
"Leg edema prevalence increasing as populations age." Many patients with lower limb edema do not tolerate traditional higher-pressure compression devices and require alternative devices for edema control. The ELS was preferred by 78% surveyed participants stating that it was more comfortable and breathable, easier to put on, less painful than previous therapies, cooler while wearing and easier to accommodate in footwear. The two treatment options showed equivalency in edema control or pain.
Both systems were easy to apply and provided low compression without increased pain. ELS was preferred by more patients (78.3%) than ETB (21.7%).
"Adherence to compression therapy can be difficult for patients with painful leg edema … For patients who cannot tolerate optimal high compression because of pain, coexisting arterial disease, or irregular contours of the legs or who have difficulty applying compression devices, low compression that can facilitate edema control may be suitable long-term options."
DOWNLOAD THE FULL PAPER HERE
Reference
Sibbald, R. G., Elliott, J. & Coutts, P., & Persaud-Jaimangal, R. (2020). Evaluation of Longitudinal and Tubular Compression Treatment for Lower Limb Edema. Advances in Skin & Wound Care. 33. 643-649. https://doi.org/10.1097/01.ASW.0000720264.41419.38
Tags In