This clinical evidence is intended for healthcare professionals only
Cognitive Impairment and Lower Leg Wounds? Consider Easy to Don Compression and Patient Adherence: A Case Series
Rosemary Hill | 2023 NSWOCC conference poster
"NSWOCs and wound care practitioners could find the cases presented as a suitable option for managing appropriate patients with lower leg wounds and cognitive issues such as dementia."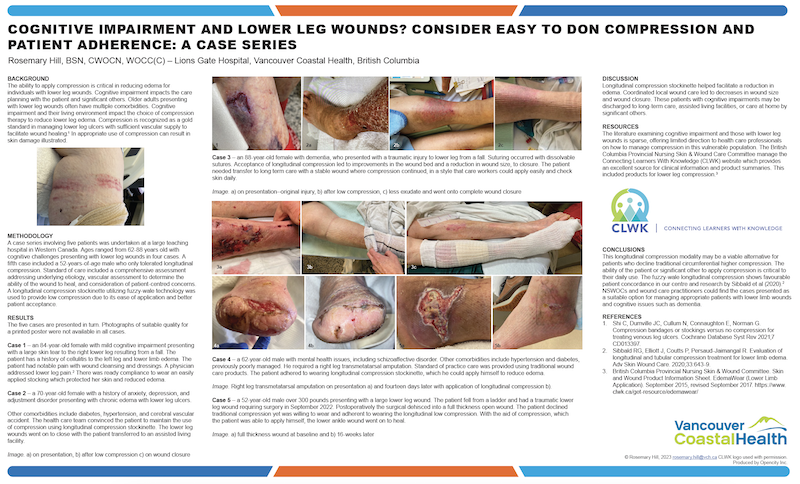 In the poster, Rosemary Hill from Lions Gate Hospital in BC discusses a case series demonstrating a reduction in edema in patients using a fuzzy-wale longitudinal compression stockinette.
This poster highlights the Connecting Learners With Knowledge (CLWK) website in British Columbia.
The poster is provided with permission from Rosemary Hill.
Fuzzy Wale Compression Stockinet Delivers Positive Pressure Wound Therapy
Ehmann S, Fazarri E, Ostler M | 2022 Spring SAWC poster
"The authors postulate the utilization of the longitudinal elastic stockinette as a wound contact layer delivers positive pressure wound therapy."

In the poster, Suzie Ehmann and colleagues study the new concept of positive pressure wound therapy in the context of the technology in EdemaWear called Fuzzy Wale Compression. Four patient cases are presented to illustrate the takeaway messages.
This poster complements the last webinar Compression: more than a number, which you can read about and watch here.Compression Beyond Edema Management | webinar summary
The poster is provided with permission from Suzie Ehmann.
Novel Use of Tubular Dressing for Lower Leg Wound Treatment
Gilmore D, Fawcett K | 2019 Fall SAWC poster
"[T]he novel TDS is a dressing with many attributes displaying positive outcomes in wound healing for patients."

In a community wound care clinic, introduction of a novel tubular dressing securement system influenced healing times on 5 patients who experienced venous, arterial, mixed and lymphatic comorbidities with lower extremity wounds.
"With the introduction of TDS healing times and edema measurements were greatly reduced, in addition to improved patient compliance with their compression management system."
The poster is provided with permission from the lead author.
Comparative evaluation of the clinical effectiveness of two elastic compression stockinets
Sibbald RG, Coutts P, Elliott JA, Jaimangal (Persaud) R | 2019 Fall SAWC Poster
"EdemaWear was preferred by 81% of participants demonstrating a comfortable, effective alternative to traditional circumferential elastic stockinet."
During this eight week observational study two tubular compression devices were compared. 16 patients began with one or the other device then switched to the other. Patient documented which product was preferred.
The poster is provided with permission from the lead author.
Comparative evaluation of the clinical effectiveness of two tubular compression devices
Sibbald RG, Coutts P, Persaud R | 2017 Poster
"The tubular elastic bandage system (EdemaWear) was preferred by n=15 (94% of participants."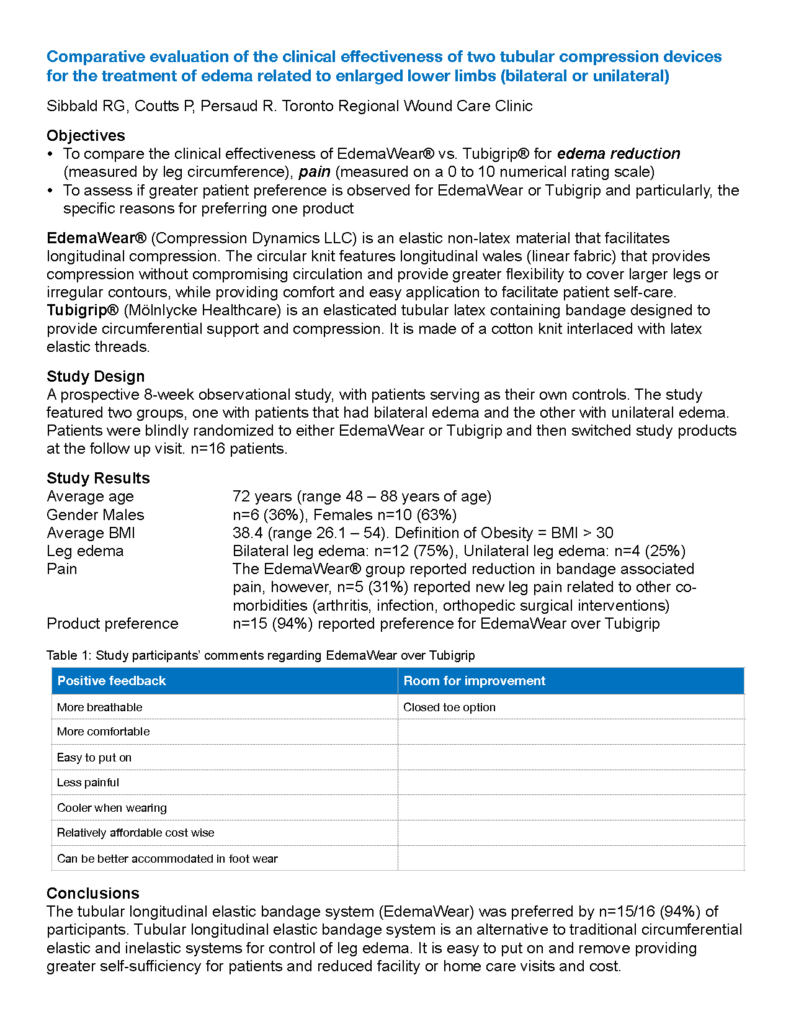 The case study had two principal objectives
To compare the clinical effectiveness of EdemaWear® vs. Tubigrip® for edema reduction (measured by leg circumference), pain (measured on a 0 to 10 numerical rating scale)
To assess if greater patient preference is observed for EdemaWear or Tubigrip and particularly, the specific reasons for preferring one product
The poster is provided with permission from the lead author.
A longitudinal tubular elastic compression alternative
Sibbald RG, Elliott JA, Persaud R, Coutts P | 2017 Poster
"A new tubular elastic bandage system has offered an alternative to traditional elastic and inelastic systems for control of leg edema"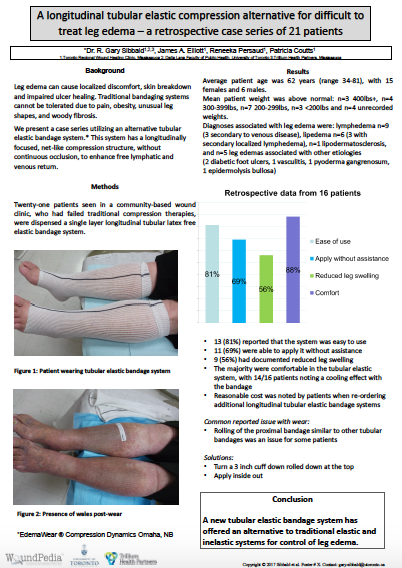 Challenging patients can now succeed with new longitudinal compression alternative. A safe and effective compression technology that patients will use.
Over twenty patients who had used alternative methods of compression without success tried a novel form of compression for the treatment of their lower leg edema. The new product, EdemaWear, proved to be a popular compression solution for these previous compression failures.
The patients reported that they found it easy to use and comfortable enough to wear all day. The majority of patients found they could apply EdemaWear without help and that swelling was reduced. Unlike conventional bandages and wraps the product delivers compression without interfering with blood flow to the leg or venous and lymphatic return providing for the highest margin of safety in use. The low cost and reusability of the product overcome objections patients use to avoid conventional compression.
The poster is provided with permission from the lead author.
Longitudinal Tubular Elastic Compression Alternative and Interprofessional Care
Sibbald RG, Elliott JA, Persaud R, Coutts P, Mufti A | 2017 Poster
"Evidence informed team-based interprofessional assessments can improve community-based wound care."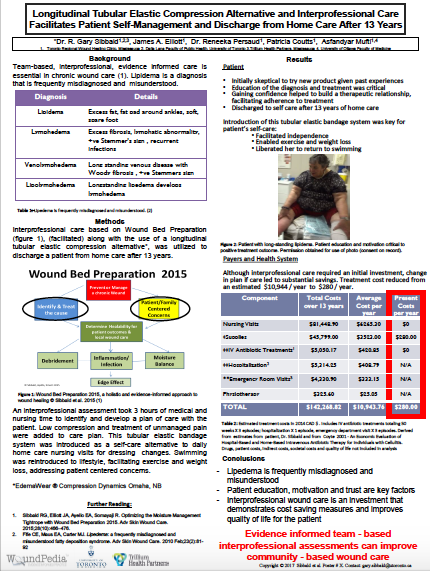 A new product leads to a change in the 13-year treatment plan and patient discharge to self-management. A dramatic fall in the annual cost of treatment from over $10,000 to under $300.
Introduction of a practical new longitudinal compression product, EdemaWear, stimulated the re-evaluation of the treatment plan, and the discharge of a patient with lipedema treated for 13-years in the home care system.
Use of the new, low cost, easy to apply product allowed the patient to regain independence. They can now take part in weight loss and exercise including a return to swimming. Providing an interprofessional review and counseling along with product can have a significant impact on quality of life and cost of care.
The low cost, comfort, ease of application by the patient and high margin of safety provides a dramatic opportunity for revision of treatment plans.
The poster is provided with permission from the lead author.