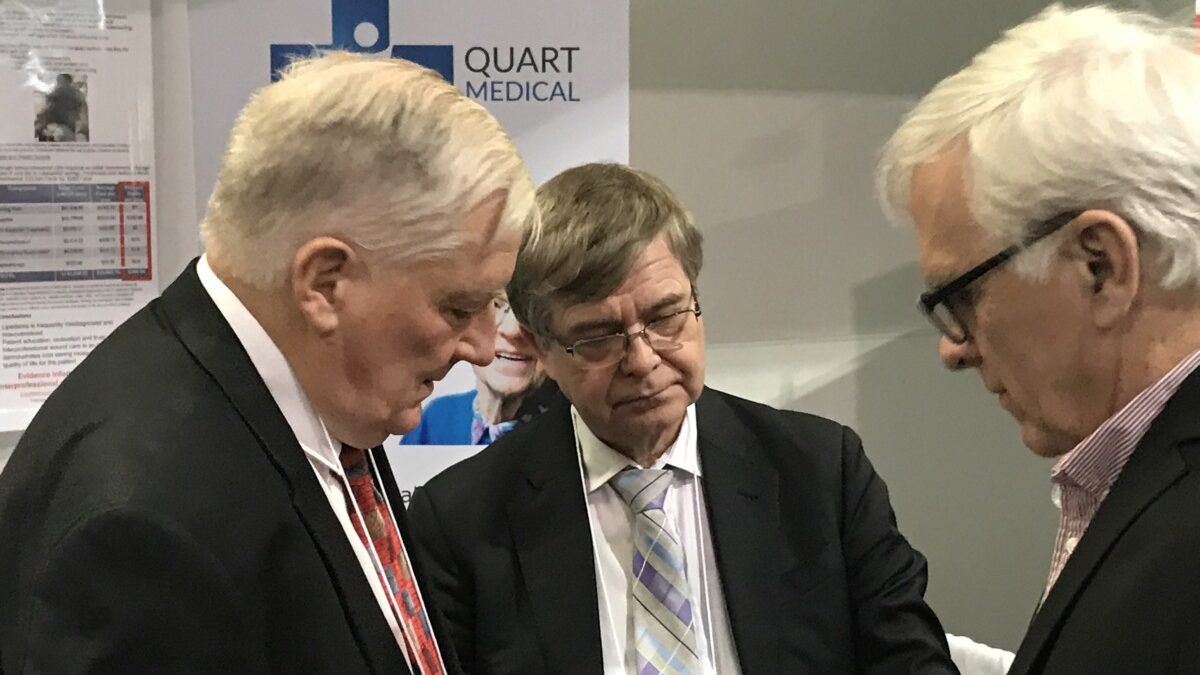 Dr. Gary Sibbald & Pat Coutts will discuss the practical implications for compression from a recent study on EdemaWear.
Reserve your spot for this 45-minute webinar on Thursday, April 15, 2021 at 12:30pm ET.
Webinar objectives
To assess the use of EdemaWear as a suitable compression product.
To evaluate the new EdemaWear paper in Advances in Skin & Wound Care.
This webinar is open for health care practitioners in Canada.
Speaker biographies
Dr. Gary Sibbald, MD FRCPC (Med, Derm), MACP, FAAD, MEd, FAPWCA, is the founder and Executive Director of WoundPedia as well as the lead of Project ECHO Ontario Skin and Wound. He is a dermatologist and internist with a special interest in wound care and education. Dr. Sibbald is also a professor of medicine and public health at the University of Toronto.

As a wound care educator, clinician, and clinical researcher, he is an international wound care key opinion leader.

Dr. Sibbald is the co-founder (1999) and course director of the International Interprofessional Wound Care Course (IIWCC). He is the director of the Masters of Science in Community Health (Prevention and Wound Care) at the Dalla Lana School of Public Health at the University of Toronto, and an investigator with the Institute for Better Health, Trillium Health Partners.

Dr. Sibbald is the former president of the World Union of Wound Healing Societies 2008-12. He is a co-editor and chapter author of the Chronic Wound Care textbook. He has over 200 publications and is the current co-editor in chief of the journal, Advances in Skin and Wound Care.
Patricia Coutts is a registered nurse with over 30 years of experience in wound care. She has served on Wounds Canada's Board of Directors and is a past President of the organization. She also extends her vast interest in wound care by serving on the Board of Directors for DEBRA Canada (Dystrophic Epidermolysis Bullosa Research Association) and the Canadian Foundation Hidradenitis Suppurativa Foundation.
Fields marked with an * are mandatory. By clicking register you are opting-in to receive email communications from Quart Medical. You can unsubscribe at any time in the future.